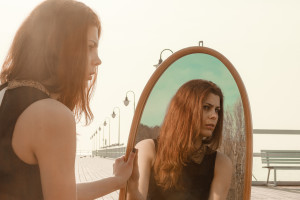 As the founder of The New York Enterprise Report (which was sold in 2014), I had a front row seat to the inner workings of many businesses and business owners.  I saw owners that seemed to operate their businesses seamlessly with happy and productive employees, and owners that never seemed to gather any momentum.  Of the latter, here are some other common attributes that they share (there is a good chance that some owners that you know might come to mind when reading this list):
They complain about just about everyone who works for them.
They are always one or two things away from having a big breakthrough (this sounds like "I just need ____ to happen").
They can't seem to find good people.
If the above bullets were a script you were reading, then you could say I have seen this movie dozens and dozens of times. And in many cases, the owner was sitting on a business with a lot of potential but they just couldn't seem to get out of their own way.
Here are three signs that you are in your own way, and how to move out of the way so you can make more money and be happier.
You Don't Have the Right People
The easiest way to spot this is when you or someone else on your team is constantly getting involved in things that they shouldn't be involved in.  This happens for a few reasons:
Fixes
It is very typical for a company to outgrow certain employees who are loyal and were very valuable in the early days. As a company grows, it goes from needing generalists to needing specialists. More specifically, it needs people who have "been there and done that" or at the very least are acquiring new skills as the company grows. Do you need a new sales leader, or a COO who can put the right processes in place? If you are a $5 million company today and want to grow to $10 million in 4 years, find someone who was part of a team that experienced growth through that stage.
Your Team Never Does It Right
Before you blame this on your team, ask yourself:
Have you made it clear what "right" looks like?
Do you have documented processes in place?
Are you leading by example (or are you often skirting the rules yourself)?
Fixes
The fix for the above is obvious. It is typical for entrepreneurs not to be detail-oriented and therefore not be the right people to create and implement processes. In this case, get yourself a great GM or COO.
You Refuse to Change
This one is becoming more prevalent as the pace of change in business keeps increasing and companies don't adapt. Here are the signs:
Your company has grown to a certain point but can't grow anymore because you are running it like it still is a startup.
You have not adapted your sales and marketing practices to how your customers are buying today.
You are not embracing technologies that allow you to serve your customers better, faster, or less expensively.
You don't have the cash to invest in the growth of the business.
Fixes
As stated above, if you want to grow, you have to run your company accordingly. This means hiring experienced people and implementing best practices and processes.  Also, you will need a strategic road map that identifies the markets you are targeting and how you will reach them and serve them. Finally, freelancers all over the world are available to you at just a few clicks to help fill in the gaps on your team.
Largely due to the web and technology, people are buying differently.  Is your company showing up when your customers are doing their research on the web?  Is your site educating your visitors? Are your salespeople adding value or are they still handing out pens?
Software and apps are out there for every industry and can allow you to leverage the digital world, whether it is serving customers better with CRM or leveraging project management software to make sure that initiatives are completed timely and well communicated.
Regarding cash needed for growth, if you really want to grow, you might need to pare back on your own compensation and/or consider taking on debt to make the appropriate investments.  (If taking on debt, do so wisely.)
If you are serious about growth, then you need to act like a growth-driven CEO. If you aren't up for it, you will be much happier once you admit that you have a lifestyle business (and that is ok).