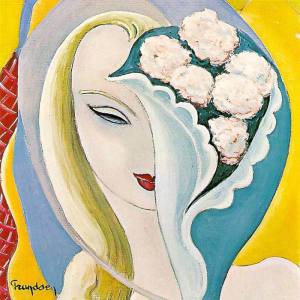 A friend from high school asked me about my most influential albums. I think of them more as favorites. These are not necessarily my favorites now, but my favorites of all time. For many of these bands, it was hard to pick just one or two albums, but I wanted this list to be as definitive as possible. Here it is, in order of decade:
60s
The Beatles: Abbey Road—Yup, it's the Beatles. I had this album on eight-track, so along with Sgt. Pepper, this is the Beatles album I listened to most. The album, especially the second side, flows like no other.
Jeff Beck: Truth—This album, featuring Ronnie Wood on bass and Rod Stewart on vocals, started to show the world what Beck was capable of outside of the confines of The Yardbirds. With this first solo album, Beck, with this lineup, could have been as big as Zeppelin if he wanted to and got out of his own way. His version of "I Ain't Superstitious" still blows me away. Beck-Ola could be on this list, too.
Led Zeppelin: Led Zeppelin—Like a few other artists on this list, Zep is one of those bands that should have all of their albums on the list. Even though I probably didn't hear it until some 11 years after it debuted, it wasn't lost on me that this album broke a ridiculous amount of new ground when it came out. From the bass pedal work on "Good Times Bad Times" to the drive of "Communication Breakdown," you can argue that this album helped create heavy metal.
John Mayall: Bluesbreakers with Eric Clapton—Some 5 years before "Layla," Clapton recorded a masterpiece, largely a blues album, when he was about 20 years old. I can't even imagine listening to this in 1965 or '66 and hearing that tone. It must have blown people away as it does me to this day.
70s
Black Sabbath: Paranoid—What makes this album even more amazing is that they recorded it in a few hours for probably less money than Justin Bieber's drum machine tech gets in an hour. "War Pigs" still gets me all nuts.
Aerosmith: Rocks—I could have easily put their first album on here because I love its rawness, but Rocks beats it by a slim margin. This album epitomizes 70s rock and roll.
Allman Brothers: Eat a Peach—Of course, I thought about putting their Fillmore album on this list… Eat a Peach really showcased the band's versatility. From a radio-friendly tune like "Blue Sky" to the epic 19-minute "Mountain Jam," this album shows the range that an amazingly talented band can have under the banner of rock and roll. You just feel great listening to it.
Bruce Springsteen: Greetings from Asbury Park—Yes, I was raised in New Jersey and most of Bruce's pre-Born in the USA albums could be on this list. The songwriting, combined with the swings on this album (going from "Blinded by the Light" to "The Flood" to "Spirit in the Night"), help you feel the wide range of emotions of a teenager on the Jersey shore in '72.
Derek and the Dominos: Layla and Assorted Love Songs—This is probably THE album. I got this when I was around 13 or 14, right after I saw Clapton in concert for the first time, and to me, it is still a perfect album. Clapton, accompanied by a great band including Duane Allman, was simply on a mission, and this album represents him bearing his soul like few artists have the ability to.
Dire Straits: Dire Straits—I think Making Movies is a better album, but this was my first deep dive into Dire Straits and I listened to this album incessantly for years (and still do). Mark Knopfler can rip, and he can also grab you with just one note.
Jeff Beck: Blow by Blow—This album not only showed me that a guitar can do so much more than I ever dreamed of, it showed me how a guitar player could be so versatile (it has nothing in common with Truth). Plus, it was my introduction to jazz.
Led Zeppelin: Physical Graffiti—First of all, it is a double album so much like Exile, there is such an incredible range of music here. And unlike II or IV, there are such amazing tunes that haven't got blown out on the radio like "Custard Pie" and "The Wanton Song."
Police—Outlands D'Amour—Great, slightly different guitar playing, unbelievable energetic drumming, and Sting singing like a rocker. The first 3 songs ("Next To You," "So Lonely" and "Roxanne") knock you out.
Rolling Stones: Exile on Main Street—This is one of my favorite bands and this is their best album in a string of great albums. A double, it has a wide range of music from rock to blues to country. To this day, I hear something new each time I listen.
Rolling Stones: Sticky Fingers—"Brown Sugar," "Bitch," "Can't You Hear Me Knocking" and "Dead Flowers"… another perfect Stones album. It is also a little more approachable than Exile.
The Cars: The Cars—This was one of the first albums that I really got into and is probably the only one on the list that can be considered pop. I don't think any other album, maybe save Greetings which reminds me of a teenage summer at the shore, brings me back to a particular time. In this case, 5th and 6th grade.
The Meters: Rejuvenation—I've been going to Jazzfest in New Orleans since '94 and have since fell in love with its music and vibe. The Meters had a big hand inventing New Orleans funk, and in doing so, created something so infectious that you can't get sick of it. Rejuvenation, while not capturing the rawness of songs like "Cissy Strut" and "Look-Ka Py Py" from earlier albums, captures them at their creative peak. The Meters's rhythm section, along with its funky songs, are the reason the band has been sampled hundreds of times and why their music stands up better today than ever.
The Who: Who's Next—An absolutely perfect album where you don't dare skip a song. This is the album that catapulted them to the giants they became in the 70s, and even though I played it non-stop as a teenager, I still go back to it today.
Van Halen: Van Halen—Any Van Halen album with David Lee Roth can make this list, including A Different Kind of Truth. As a guitar player, I am more of a Clapton guy than a Van Halen guy, but only because of a ceiling in my abilities. Hearing Eddie play changed the way I think about how I play guitar. And the songs are just fist-pumping awesome. In truth, I have overplayed this album, but given how much I listened to it as a teenager, it stays on the list.
See part II at levin411.com/my-favorite-albums-of-all-time-part-ii/.