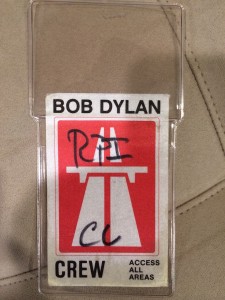 When I look back at my career, one of my favorite "jobs" was running the University Concert Board (UCB) at SUNY Albany. I mean, how cool is it to have a $100,000 budget to produce concerts at the age of 20?  And I got to produce some great shows including the Red Hot Chili Peppers, Meatloaf (who said I could call him "Meat"), Fishbone, Elvis Costello and Cheap Trick to name a few.
By far, the biggest act I produced was Bob Dylan in the fall of '89.  Originally slated for the Palace Theater in downtown Albany, we had to move the gig to the RPI Field House when the Palace was shut down for emergency repairs. There were two memorable moments from the show. The first was my interaction with G.E. Smith, Dylan's guitar player for that tour, who is well known from his stint leading the Saturday Night Live band for many years.  I ran into him back stage before the show and this is the conversation that transpired:
G.E.S.:  I heard you're the guy in charge here.
R.L.:  I am.
G.E.S.: I also heard that there is no liquor being provided.
R.L.: That's right. School rules.  (That wasn't entirely true but it was a convenient line that previous UCB Presidents taught me which enabled me to save some cash for a post-show party for the UCB volunteers).
G.E.S.:  That's too bad. It looks like its going to be one of those nights.
He then reached into a pocket in the inside of his leather jacket, whipped out a flask, took a healthy swig and walked away. A classic rock and roll moment.
The second memorable moment took place during the sound check with Smith, the drummer and the bass player.  It was some of the most incredible music I've ever heard – and I have heard a lot. The highlight was the trio playing CSN&Y's "Almost Cut My Hair" for about 20 minutes. They rocked. I kept turning around to see who else was checking out this incredible performance. Other than the guys at the sound board and myself, there wasn't a single person in the Field House to witness this amazing performance.
I often get the question, "did you hang with Dylan?".  Nope.  His handlers did a good job of keeping everyone away from him. I'm sure, as the guy handing him a $35,000 check (which I am sure is a fraction of what he gets these days), I could have tried harder.  But even at the age of 20, I wasn't star struck and never tried hard to meet the stars I produced.
Not bad for a junior in college.
P.S.: – I am reasonably sure that this is the setlist from the evening: