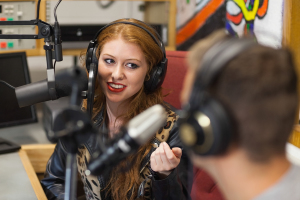 Recently I was quoted stating that all companies are media companies.  Yes, "all" includes small businesses (at least those with websites). With content marketing, companies of all sizes have many ways to engage customers and prospects including your website and social media. For clarity's sake, when you engage people you:
build trust, and the more trust you have with someone, the more likely they will buy from you or recommend you
turn people into your company's ambassadors, which means they will tell other people about you
have a communication channel to deliver offers (you know, sell something)
Many smaller businesses are aware of the opportunities that content marketing brings them but they don't know how to get started. Here are two ways that are in everyone's reach:
Write* about your customers.  This can be as simple as asking them 3-5 questions (check out Lifehacker's How I Work column, where they usually ask many of the same questions to each interviewee).  One bonus of writing about your customers is that most of them will tell their family, friends, and customers via their social media channels.
Write on topics related to your expertise.  If you are a plumber, write about preventing plumbing or other household problems.  If you own a clothing store, share fashion tips.
* I used the word "write" but you could do audio or video as well.
Not sure where to post the content?  Easy.  Post a stream of the headlines on your homepage with the rest on its own page.
IMPORTANT: Because there is so much content these days (hey, if it is easy for you, it is easy for everyone) keep in mind that the content does have to be quite exceptional, so it does take some time.