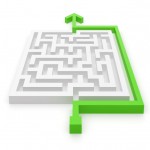 Is doing business with your business easy or hard? People buy more from companies that make it easier to do business. This is more prevalent now than ever because of how the game has changed. You can purchase something from Amazon in 1 click. Not sure what size shoe will fit? Zappos (owned by amazon) will let you order 3 pairs of the same shoe and ship the 2 (or all 3) back on their dime. You can order a car from Uber without typing your address (Uber's fast adoption rate is also proof that people will pay more for easy). Whether you are B2B or B2C, people expect more.
Easy is now expected. Here are a few questions to think about in making sure your company is an easy one:
Is all the information about your product/service easily found on your website?
Can someone get the right person at your company on the phone in a few seconds?
Do you send invoices and other documents on time and accurately with all the pertinent information?
Do your employees know that making it easy to do business with your company is a high priority and are they empowered to do so?
Do you communicate milestones with your customers on a timely basis?
Is your entire  buying process easy?
Are your processes designed to make things easy for the customer?
That was easy.