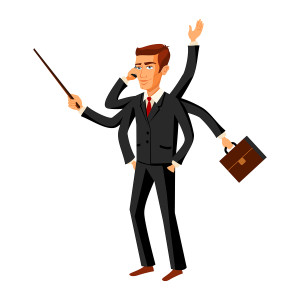 In my first post of How I Work, I wrong about how I stay organized.  That was followed by the programs and apps I use. In this last installment, here are some ways I make my life easier; and other people make my life easier.
Virtual Assistant
After years of thinking about it, YEC's Scott Gerber convinced me that having an assistant is a game changer, and as he often is, Scott was right. First and foremost, my assistant, Jessica, schedules most of my calls and meetings, including reservations. I am also soon going to have her to post to my blogs (this one and RSL Media Our Thoughts). In addition, she does all sorts of research for me saving me lots of time.
The hardest part about getting an assistant is training the person. I went through these pains, having tried out several assistants before finding the right one. My strategy was to give them a few simple tasks, broken up so that they would check with me after each step. If their work was good (details were correct, etc.), I would slowly get them more involved and train them on more things.
Earth Class
As I mentioned above, I prefer a paperless office. All of my business mail gets forwarded to my Earth Class address. When mail comes in, I get an email and have several options. I can have it scanned, recycle/throw it out, or hold it for pick up or have it messengered to me. Most of the mail gets scanned, and then I can easily forward it to the appropriate team member, or simply save it in the appropriate Dropbox file.
By the way, I have many of my clients pay us via Automated Clearing House (ACH) so that we don't need to run to the bank too often.
Schedule time to plan and think
The pace of change in business is fast these days and only getting faster. As CEO, it is my job to make sure my company is poised to continue to grow. I regularly schedule time to work on long-term (strategic planning about the direction to take the business) and short-term initiatives (an upcoming marketing event). If you don't schedule and take the time to do these things you will constantly be reacting and working on the urgent instead of the important.
Headset
I have a habit of walking around the office when I am on the phone. Fortunately, I have my Sennheiser SD 10 HS wireless headset. The sound is great and so is the battery life. Plus I hate holding the phone up to my ear or using my shoulder to cradle it when I need to type while on the phone. I don't know how anyone does without a headset these days.
Spotify
Music is a big part of my life. I always have my Bose SIE2i headphones with me, and usually on, when I am outside of the house or office (they also serve as a mic for my iPhone). I have a premium account which is probably the best $10 a month that I spend. The premium account allows me to download songs to any device which is great for the train or subway, and so I don't use too much data on my phone. Spotify allows me access to just about anything that I want to listen to, and I can experiment with new music. Plus, its interface is better than iTunes.
White Noise
I easily struggle with focus and concentration. When I need to focus, I will put on light classical music, or more likely, white noise in the background (available on Spotify or on YouTube.
Calm
I just started using the Calm app for meditation and I'm working on my mindfulness. Ten minutes a day is short enough to start to build up the stamina of meditation. I feel relaxed and charged up when I'm done (except when it has put me to sleep, which isn't a bad thing).
Games
I am not much of a gamer, but when I have 10 minutes or so and don't want to do anything work related, I turn to Patrick Kane Hockey Classic on my iPhone. It is the only game that I haven't gotten sick of.