Attention Long-Time Customers: We Don't Care About You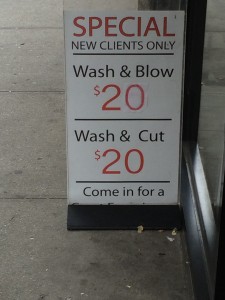 How many times have you seen the words new customers only? I can't think of a business tactic that is more idiotic.  It's really like slapping your loyal customers right in the face. Hard. Remember this: your current customers are your best prospects.  Treat them accordingly.
Why Tenure for Teachers?
Does anyone else find it odd that any public school teachers are protected by tenure?  So, you're telling me that the people who teach our kids should have more job protection than most of the workforce?  Let's pay the good ones more and get rid of the bad ones as quickly as possible. This is a job benefit that is no longer relevant, costing municipalities money and harming our kids. Read about these NYC teachers who do bad things and keep their jobs.
Getting Around
I don't use taxis much. But when I do, I use Uber. Even if you use a cab one or two times a year, sign up (and get $30 off your first ride) just in case.
Levinism
The more trust you have earned, the less you have to spend on advertising.
7 Musts for Your Website
I hope everyone watches this simple, quick (6:39) video on making sure your website is helping you and not hurting you.