I'm a huge fan of Jack Daly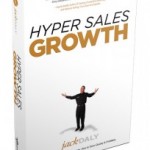 .  Jack's the real deal. He built six very successful companies, some of which have landed on the Inc. 500 list multiple times. He  has hired and led thousands of salespeople.  I've had the fortune of seeing Jack speak several times and even hired him to speak at a New York Enterprise Report event. I have implemented Jack's teachings to much success.  Oh, he's also a triathlete who competes all over the world. Jack, in short, is one of those larger-than-life guys and I'm fortunate that we have become friends.
Finally, Jack has written a book that is on par with his incredible speaking engagements.  Hyper Sales Growth: Street-Proven Systems & Processes. How to Grow Quickly & Profitably is a must-read for CEOs, sales executives and sales people.  In addition to covering sales management topics like recruiting, managing, training and compensation, Jack discusses critical topics such as culture and the need for having a strong vision.  Consistent with Jack's personality, Hyper Sales Growth is highly pragmatic, straightforward and without any bull.  This is a business book that you don't want to put down.
At the risk of not doing the book justice, hear some of my favorite takeaways:
Make it fun.  It, of course, is your company.
No more parties for employees that are leaving the company. Instead, throw parties for people joining the company.
Publicly recognize your employees.
Set your poor performers free.
Always have a list of 15 people that you want to hire, whether you need them now or not.
If your sales people are not practicing, they're practicing on your clients.
The best salespeople are canned but don't sound like it and listen a lot more than they speak.
Just as I see Jack speak once a year, you will want to read this book more than once.
And if you get a chance to see Jack speak live, don't miss him.